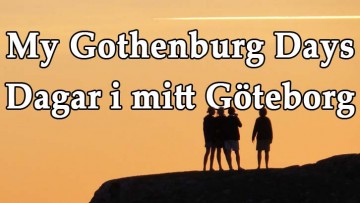 Yesterday evening I took the decision to postpone launching the crowd funding campaign for My Gothenburg Days / Dagar i mitt Göteborg. I'm going to put off the launch until the week of the Gothenburg Book Fair (the last full week of September). This will mean the campaign will now run until the beginning of November.
I made this decision mainly because I realise I have been over-optimistic about the time it would take me to prepare the campaign, and I have not taken into account the time necessary to liase with FundedByMe, the crowd funding website I'm using.
On the positive side, the postponing the launch means I'll be able to review the calculations I've made about the amount of money the campaign needs to attract. I'll try to bring the target down in order to increase the chances that the campaign will succeed.
I'll still be taking part in Planket on Saturday, but I'll use the occasion to promote the GBG365 website and the My Gothenburg Days' Facebook page.
På svenska!
I går kväll tog jag beslutet att skjuta upp starten av min crowd-funding-kampanjen för My Göteborg Days / Dagar i mitt Göteborg. Jag kommer att skjuta upp starten tills veckan för Göteborgs Bok- och Biblioteksmässan (det sista hela veckan i september). Detta kommer att innebära att kampanjen nu kommer att pågå fram till början av november.
Jag fattat detta beslut främst för att jag inser att jag har varit överoptimistiska om den tid det skulle ta mig att förbereda kampanjen, och jag har inte tagit hänsyn till den tid som krävs för att hålla kontakt med FundedByMe, crowd-funding-hemsidan som jag använder.
På den positiva sidan, innebär förseningen att jag kommer att kunna granska de beräkningar som jag har gjort om hur mycket pengar kampanjen behöver locka. Jag ska försöka få ner målet för att öka chanserna att kampanjen kommer att lyckas.
Jag kommer fortfarande att delta i Planket på lördag, men jag ska använda tillfället för att främja GBG365-webbplats och My Göteborg Days Facebook-sida.