The Photographer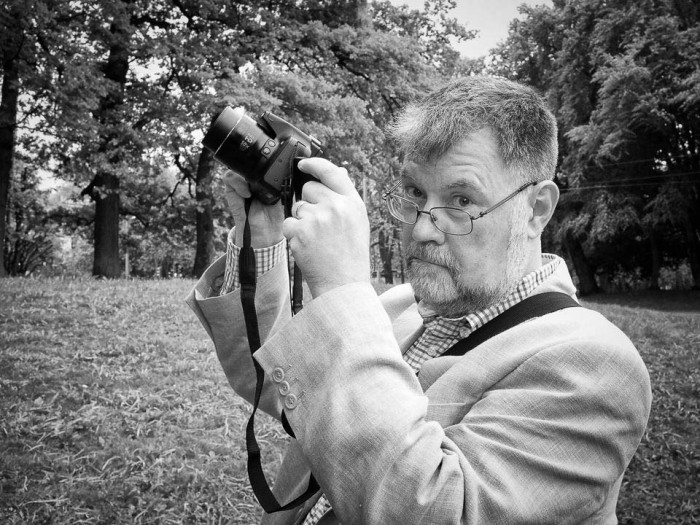 My name is John Nixon and I'm the photographer. (Though not, obviously, the one who took the above picture. That was Daniel Eliasson. Thanks Daniel, it's a great picture!)
I started taking photographs when I was about 8 or 9 years old when I learned to use my mother's Kodak Brownie box camera.
Over the years I worked my way through a number of different cameras from the ridiculous to the sublime. In my late teens and early twenties I used a dinky little 110 mm 'spy' camera. In my late 20s and early 30s I had an Agfa Isolette with a bellows front that had belonged to my father. The Agfa produced big square 6cm x 6cm negatives which gave really beautiful pictures … if I managed to use the right shutter speed, aperture and focal length. No automation there!
For my 35th birthday my wife gave me a Minolta SLR (a Dynax SPxi). That became my favourite camera, and I used it for a good 14 years. Eventually, though, in 2007 I succumbed to the siren song of the digital age. I couldn't afford a digital SLR as they were still very expensive, instead I bought an Olympus SP-550uz. It's a lovely camera and I've had a lot of pleasure out of it.
Still, I'd been planning to splash out on a DSLR camera (as the prices have come down so much) when I had an accident.
In March of 2010 I was on a skiing holiday in northern Sweden (not a favourite activity at the best of times) when I fell awkwardly on my face. I didn't have my glasses on at the time, which was a blessing as I came down very hard. No property was damaged, but I shook something loose inside my right eye.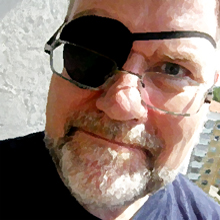 I still don't know really what's wrong, and two long days at an eye clinic have not cast any light on the matter. (At least, I'm still puzzled though the doctors seem satisfied it isn't anything serious like a detached retina.) But here I am with an object floating about in my eye. It blurs my vision – not all the time, but it can throw my focus off when I'm sighting through a viewfinder. It has drained a huge amount of joy from my photography.
But you can't spend your life feeling sorry for yourself, can you? I've ditched the idea of a DSLR, or any camera that involves me using my eye to focus and judge light. I simply can't trust myself any more. Despite that, I've decided to try to take back my hobby by trusting to the cameras' automatics. I'm going to go with the strengths I have left, which I believe are composition and an ability to spot a good subject.
My first project in the new campaign is GBG365 and I've proudly established a new sub-domain on TheSupercargo website so I can take advantage of a 'responsive' theme. The responsive nature of the theme means the photos should look equally good whether you are viewing them on a computer, a surf pad or a mobile phone.
The sub-domain also means if you want to subscribe to this project, gentle reader, you can do so without being bombarded with all the other stuff I post on line.
If you want to learn more about the project, go here.
If you want to learn more about the cameras I'm using, go here.
If you want to learn more about the photographs and the rights associated with them, go here.
If you want to subscribe to the blog, please use the RSS button in the top right-hand corner, or subscribe by e-mail from the Subscriptions page. You can 'unsubscribe' from the same page.
If you want to share any of the pictures on the social media, feel free to use one of 'share' options provided under each image.
Comments are very welcome! (But – a word of warning – don't lard your comment with URLs or the software will zap them as spam.)
If you want to contact me without leaving a comment, please use the contact form.
You're also most welcome to visit TheSupercargo main site, where you'll find more photos (and much else).
Thank you for your interest …
John Nixon, The Supercargo
🙂